Outsource Test Automation Services
Complement your manual testing processes with O2I's customizable and highly productive software test automation services. Let quality, security, robustness, and stability be the benchmark of your software, and your brand.
We do not jump in to give a standard automation testing solution based on common testing tools and known procedures. Rather, we rely on effective and insightful interactions with your testing and application development teams to design highly economical automated testing framework which caters to all your testing needs and can be scaled when needed.
Our Test Automation Services in a Nutshell
Building Test Frameworks
Our fully customizable and functional framework can just be the right infrastructure for your automated testing needs
Manual to Automatic Migration
Increase the testing productivity of your organization by seamless transition from manual to automatic testing
Testing Platform Migration
Stuck on one platform? Now move your complete automation framework and processes to any platform of your choice with our expert migration services
Auto Script Generators
Let our automated script generators do the job for you and simplify your testing processes
Customized and Phased Automation Support
Take advantage of our economical and smart automation and implementation services
Creating Automated Testing Frameworks
Moving from Manual to Automatic

It is highly important to move from manual to automatic, but it is even more important to understand the issues, and plan the movement from manual to automated testing processes. Our team of experts will analyze and draw exact execution plans after identifying the areas which need automation, and the areas which need an integrated automated testing framework.

Migrating Test Automation Tools

If you have an automated software testing process designed for one platform, but would like to see the same run on another, or if you are looking to develop an automated testing process for multiple platforms, our test automation migration services is just what you may need. With our expertise spanning multiple software and hardware platforms, and across testing tools, you can be confident about the performance of your automated test processes on any platform.

Developing Automation Script Generators

We develop and deploy script generators which help you develop test scripts based on your inputs, using this you can take care of your random testing needs.

Customized/Phased Automation

We selectively identify areas where automated testing software can help, and then deliver customized solutions based on your precise needs rather than automating the whole system in a go. This may help businesses, where the need for automation is cost-centric or where businesses are looking to implement software testing automation process in a phased manner.
Automation Testing Tools We Leverage
Egg Plant
Silk Test
Selenium
IBM Rational Test
JUnit
NUnit
Here's a list of top 10 automation testing tools that we can leverage for your advantage.
O2I's Approach towards Test Automation
We realize that a standard model of automated testing can't fit for every customer, as their needs may vary. This is why we follow an approach that fits the preciseness of all our customers, and helps them to customize a fully functional and scalable automated testing framework.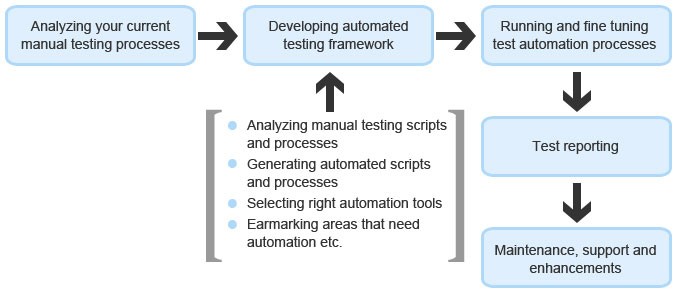 Does Your Business Need Test Automation Services?
The habitual reluctance to automation testing services or automation processes, and reliance on basic manual testing to hasten software delivery is quite common, but as you may know, it can prove pretty risky and can directly affect the quality of your software.
Therefore, it's better to run a reality check and see if your software needs an automated testing process or not.
Task 1: Count the man hours put in by your testing teams

Calculate the time spent by your team, and you will be astounded by the amount of time and effort your team puts into testing stuff manually, and also the cost it incurs for your company.

Task 2: Accuracy guarantee

Are the manual test results guaranteed? Are the test cases prone to human errors? Are manual changes in scripts authenticated? Does monotony ever strike your testing team?

Task 3: Your QA team can be more productive

Is your QA team working tirelessly on manual testing methods instead of relying on automated testing? With testing automation, your QA technicians can spend more time in conducting faster quality checks and improve the overall robustness of your software.
If answer to any of the above mentioned questions is in affirmative, it's high time you switch to automated testing!
Outsource Test Automation to O2I
With outsourcing automation testing to O2I, you will not only be assured of the quality and robustness of your software applications, but will also save a lot of money and time. Our software testing services will also unburden your testing and quality analysis team from the extra burden, and let them engage in more productive tasks that would vastly improve the overall robustness, stability, and quality of your software.
To outsource automation testing to O2I's testing experts, contact us.
Get a FREE QUOTE!
Decide in 24 hours whether outsourcing will work for you.
Have specific requirements? Email us at:
Get a FREE QUOTE!
Decide in 24 hours whether outsourcing will work for you.
Have specific requirements? Email us at:
USA
Flatworld Solutions
116 Village Blvd, Suite 200, Princeton, NJ 08540
---
Flatworld Mortgage Solutions LLC
116 Village Blvd, Suite 220, Princeton, NJ 08540
---
135 Camino Dorado, Suite 7, Napa, CA 94588.