IT Staffing for PHP Developers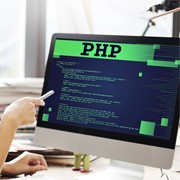 Today, PHP has come a long way from its humble beginnings. Starting out as a collection of programming tools for online resumes (Personal Home Pages), it is today a fully grown object oriented programming language. By 2017, PHP was being used by 82.5% of websites across the globe in some capacity. PHP has become the first choice for both web developers and businesses looking to maintain a website alike. Known for its scalability, simplicity and high flexibility, PHP is being effectively used by popular websites such as Facebook, Wikipedia, Flickr, etc.
At Outsource2india, our PHP developers have been offering dynamic and robust web solutions that can be adapted to meet every precise requirement of the client. We share a common belief that PHP development demands experience, expertise, passion, and specialization and our PHP developer team combines the skills of both professional designers and developers. Consequently, we are able to offer PHP web development, CRM application development, open source development, and responsive web designing services as part of our staff augmentation for PHP developers.
PHP Developer Staffing Options for Global Businesses We Offer
We help our clients' websites stand out by delivering unique web interfaces and applications that are intuitive, aesthetically pleasing, and easy to use. Our customized PHP solutions not only help you achieve your business objectives faster, but also comply with your organizational requirements and workflow management.
Our IT staffing for PHP developers has catered to more than 18488 clients over the past 14 years. Our staffing solution for PHP developers spans a wide range of options, including -
Part-time PHP Developers
Looking for developers on a part-time basis? This is the option to go for
Full-time-equivalent (FTE) PHP Developers
Are you faced with time consuming and long term PHP projects? Our developers can work on an FTE basis (8hr per day for 5days a week), as per your requirement
Short-term PHP Developers
Looking for special PHP skills but only for a short duration? This option works great for small and medium sized projects
Long-term PHP Developers
Looking for PHP experts who can provide special attention and work on your project for a longer term? We are here to help
Contracts with Option-to-hire
Looking for PHP developers on a contractual basis? You can not only hire a contractual employee, but can always extend the working duration and even hire them as part of your own payroll
Direct Recruiting for PHP Developers
We can help you directly recruit trained developers with a suitable experience, as per your requirements
Consulting PHP Developers
Looking for PHP consultants for a longer or shorter term? We have them here at Outsource2india
Specialty Staffing for PHP Developers
Outsource2india can take care of any kind of special requirement and specialty PHP staffing needs. Just give us a call
Our PHP Web Development Expertise
All our PHP developers for hire have a minimum experience of 5 years, and have worked with various Fortune 500 companies in various capacities. Collectively, we have been creating websites and applications that are unique in each and every aspect.
Our PHP development team consists of certified professionals who are willing to take on creative and coding challenges. You can seek our IT staffing for PHP developers for -
PHP Web Designing

Our specialized PHP web and application design professionals ensure that your website and mobile app has the power to catch the attention of the audience. Our PHP designers will be able to come up with highly customized PHP templates that create user-friendly and business-friendly experiences.

PHP Theme Development

We understand that every business is different. This should be rightly portrayed in your website and web applications too. Our programmers can skillfully integrate third party themes (if you have eyes upon something specific), convert PSD template into PHP friendly modules, and create a highly scalable theme as per your requirements.

PHP Web Developers

Our proficient PHP developers for hire leverage the power of modern PHP frameworks and tools to create a stunning and fully functional website. They will create a highly secure backend system that sets the base for a flawless communication platform between businesses and customers and at the same time restrict spammers from getting access. If required, we can also combine our PHP solutions with targeted APIs to enhance productivity and increase the overall functionality of your website, such as Mandrill, Google services, etc.

Our PHP Development skill set spans a wide range of solutions, including -

Mobile development
Blog development
Mailing systems / message boards / forum development
Multilingual support integration / payment integration / shopping cart integration
Web content management
Banner and advertising
PHP Smarty development
CakePHP development
PHP template conversion
CRM application development
PHPBB
Database driven application development using PHP
HTML5 and CSS3 support
Why Hire PHP Developers From Outsource2india?
We don't just focus on industry experience but special skills in web development and designing when hiring our PHP developers. By performing performance optimization of existing code, our developers can easily rebuild your existing website, or create a new one within a short time period. By hiring our web developers, you can benefit from the following -
A full cycle PHP solution including customized support for various CMS services such as Drupal, Joomla, WordPress, Magento, OpenCart, etc.
An intuitive UX supplemented by modern coding technology to ensure your website works flawlessly across browsers
Ability to integrate payment gateways such as Stripe, iDeal, Braintree, etc. easily within PHP based e-commerce site
Support for multiple frameworks such as YII/YII 2, Laravel, Zend 2, etc.
Integration with various servers for faster backend processes such as Varnish, Redis, Node.JS, Apache, etc.
A transparent work process where our developers are strictly answerable to you
Affordable rates and timely delivery ensure you always receive a high-quality end-product with minimum fuss
Choose Outsource2india to Hire PHP Developers
Whether you are a small business or a multinational enterprise, our bespoke IT staffing solutions can present you with a wide variety of choices for your exact PHP development needs. If required, you can also hire our Drupal, LAMP, or Java developers for all your IT staffing requirements.
Our expertise in, PHP development, combined with our developer's ability to create scalable and flexible solutions ensures that all your requirements are met with in-house, thereby providing you with, significant cost advantages.
Contact us today for your mobile app development staffing needs.
Get a FREE QUOTE!
Decide in 24 hours whether outsourcing will work for you.
Have specific requirements? Email us at:
USA
116 Village Blvd, Suite 200,
Princeton, NJ 08540