IT Staffing Services for Web Developers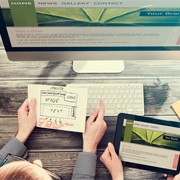 Today, websites have become the face of businesses both large and small. Even local shops and restaurants are at risk of losing customers unless they have an accessible and easy-to-use website. Modern websites serve as a medium for the end audience to be able to access information about a business or order for their products and services. A website also adds to a businesses' credibility and showcases the personality of the brand.
Given the importance of a website today, modern day web development remains a delicate balance between creativity and technical expertise. Web developers use a variety of tools to integrate functionality and experience into your website design, while keeping it in line with the personality of your brand.
The money you invest in a web development project is consequently one of the most important investments for your business rather than being an expense. At Outsource2india, our web developers come with special skills that can effectively represent any brand and any industry in the web space. Every project that we have undertaken is a representation of our uniqueness in thought, delivery, and innovation. Our web development services include mailing systems, web content management, PHP customization and several other elements that complete a successful website.
Our IT Staffing Options for Web Development
At Outsource2india, we make sure that the websites created by our developers rightly represent the unique personality of the brand it represents. Consequently, our web developers always come up with solutions that will not only help you leverage your brand in the market but also stand above the competition.
Outsource2india has a staffing experience of over 24 years and has catered to more than 18488 clients. Our staffing solution for Web developers spans a wide range of options and are incredibly cost-effective:
Part-time Web Developers
Get developers to work on a part-time basis on your projects
Full-time-equivalent (FTE) Web Developers
Hire an FTE developer for 8hr/day and 5 days a week and your talent acquisition need is taken care of without delivering special training
Short-term Web Developers
Hire specialized resources who work on your project for a short period. This is best for medium-sized assignments
Long-term Web Developers
For projects which require specialized attention and resources for a longer period, this option is highly advisable
Contracts with Option-to-hire
Looking for developers on a contractual basis? If your project extends, you can increase their contract easily or even hire them
Direct Recruiting for Web Developers
We will help you with hiring experienced Web developers based on your special needs and requirements
Consulting Web Developers
Our experienced professionals can act as your IT consultants for all projects
Specialty Staffing for Web Developers
For any type special requirements, our experienced specialists will help you make informed hiring decisions
Our Web Developer's Expertise
Every member of our web development team comes with specialized expertise and skills. Every member of the staff comes with a minimum industry experience of 5 years, and we have been collectively responsible for several unique websites that have taken our client's businesses to a whole new level.Our team of web developers consists of certified front-end and back-end specialists. You can hire web developers from Outsource2india for:
Expert Web Programming

Programming is at the core of every web page. It not only collates the design elements in place but also ensure that they serve intuitive functionalities. Our coders and programmers take every project through a rigorous testing process, ensuring that no bottlenecks are left behind. Consequently, you get a website that doesn't just impress but also helps increase your brand visibility.

UI/UX Designing

Our web design experts can create user interfaces that are usable, useful, and desirable. Our web designers don't just come with the experience and the tools to express your thoughts on a web page, but can also suggest out-of-the-box solutions to most perplexing UI issues. We always ensure that the right information is presented to the user at the right team, and in such a way that it empowers the user to feel in control.

Content Management

Without the right type of content, a website fails to attain its goal. Our web development staffing allows you access to a content management team that not only focuses on a viable SEO strategy for your business, but also ensures that viral ideas and information are consistently presented to your audience at the right moment.

Our Web development skills set spans a wide range of other solutions, including:

Mobile Web Development
Web Content Management
Blogs
Banner And Advertising
Message Boards
Custom Theme Integration
Mailing Systems
Multilanguage Support
Payment Gateway Integration
HTML5 And CSS3 Support
Database Driven Web Application Development
Benefits of Hiring Web Developers from Outsource2india
The web environment is getting more and more complex every day. For any brand looking to do more with its products and services online, technology is a priority. At Outsource2india, we like to keep ourselves updated at all times when it comes to web development technology. By hiring our web developers, you stand to gain from the following -
Completely dedicated resources who work full-time on your project, thereby allowing you to get to market faster
Strategic development techniques employed right from the conception phase of the project ensure your website is readily scalable according to your requirements
SEO optimized websites which always rank better in Google and other search engine results
Access to high-quality web analytics to glean in-depth information about the users visiting your website
Highly functional websites which work equally well with different browsers, and at different screen resolutions
A distinct web design from most of your competitors who might be using the same themes web wrappers to present their website
A final level of polish, including fonts, character spacing, illustrations/photographs, etc. which not only capture the viewers' attention, but also give your brand a much-needed marketing push Timely and cost-effective services while ensuring a high level of quality
Choose Outsource2india for Web Developer Staff Augmentation Services
Outsource2india has been a top service provider for IT staffing and outsourcing solutions in India. We work with many global brands spanning multiple industries and still maintain a high project delivery standard for all. Our expertise in web development and open source development solutions ensure you can hire LAMP, Java, and even Drupal developers at any time as per your requirements.
Contact us today for all your web developer staffing needs!
Get a FREE QUOTE!
Decide in 24 hours whether outsourcing will work for you.
Have specific requirements? Email us at:
USA
116 Village Blvd, Suite 200,
Princeton, NJ 08540