Outsource Web App Development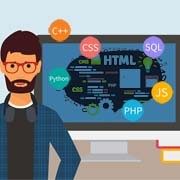 In today's fast-paced world, it is difficult to find the one solution which is compatible with all types of smart devices and mobile phones. Be it native, hybrid, or web apps, each one of them have their own pros and cons, thereby making it difficult to choose between them when it comes down to development. When it comes to mobile web apps, they are not really apps, but are mobile optimized web pages with the look and feel of native apps.
Many developers generally get stuck when deciding which kind of app to develop, since when it comes to deciding between a native app and a web app, the most appropriate choice depends on their end goals, which sometimes is unclear. As a developer, if your goal is to offer mobile-friendly content to the widest possible audience then a mobile website is the way to go. Generally speaking, a web app should be considered as the first step in developing a proper mobile web presence. At O2I, we believe in working with developers to not only select the best platform for development, but also provide them with best-in-class web app development solutions at cost-effective rates.
Our Web App Development Services
As a mobile web app developer the last thing you want to hear is about how slow the web app is. It is important that one must carefully think about reducing and optimizing each byte and server transfer to reduce the user's wait time. The web app developers at Outsource2india know the exact tips and tricks that can help optimize the performance of your mobile web app and minimize latency. Some of the methods we follow include:
Image Optimization

Image load time is well-known to be one of the biggest performance issues affecting page load on mobile devices. Our team of mobile web app developers is trained to use image optimizing tools which are helpful in addressing this issue.

Database Queries

Some mobile browsers are not able to accept as many cookies as some of the more popular desktop browsers which in turn can result in execution of more queries than usual. For this reason, server-side caching becomes very important when supporting mobile web app clients. Our developers are comfortable handling even the toughest database queries in order to ensure your web app never feels lag-prone.

Content Delivery Networks

If you are planning to provide lots of videos, images, audio files, or any media files, then the use of a CDN is highly recommended. Our team understands the advantages of employing a CDN to support web apps and is skilled to deploy it to further optimize the overall functionality of the app.

Code Compression

Compressing the JavaScript and CSS files, depending on the amount of code you have, can potentially have a significant impact on performance. Our expert team of web app developers is trained to work on various code compression tools so as to deliver all your requirements in a tight package.
Benefits of Web Apps over Native & Hybrid Apps
If your goals are primarily related to marketing or public communications, having a mobile web app makes more sense as a practical first step in your mobile outreach strategy. This is because web apps have several benefits over having native or hybrid apps, which include:
Instant Availability - Mobile websites are instantly available to users via a browser across a range of devices, unlike native apps which need to be downloaded and installed from an app store.
Upgradability - A mobile website is much more dynamic than any app in terms of flexibility to update content. Updating a typical native app requires the updates to be pushed to users which then must be downloaded on various devices, which is not the case with web apps.
Compatibility - A single mobile website can reach users across many different types of mobile devices, whereas native apps require a separate version to be developed for each type of device.
Findability - Mobile websites are much easier for users to find because their pages can be displayed in search results and listed in industry-specific directories, making it easier for visitors to find you.
Shareability - Mobile website URLs are easily shared between users via a simple link. Publishers can easily direct users to a mobile website from a blog or website, or even in print.
Reach - Mobile website is accessible across platforms and hence can be easily shared among users, as well as search engines, it has far greater reach capability than a native app.
Time and Cost - Mobile website development is considerably more time and cost-effective than development of a native app, especially if you need to have a presence on different platforms.
Life Cycle - The average shelf-life of an app is pretty short, so unless your app is something truly unique or useful, it's questionable how long it will last on a user's device. Mobile websites on the other hand are always available for users to return to them.
Support and Sustainability - The initial investment considerations of an app vs. website don't end with the initial launch; since properly supporting and developing an app is more much more expensive than supporting a website over time.
Why Choose Outsource2india for Web App Development?
We at Outsource2india understand the different business models and requirements of our clients and deliver the results as per their needs. We have access to the latest technologies which help us to develop new and innovative mobile web app designs. Some of the reasons you need to outsource web application development to us include:
We deliver a feature-rich mobile web app which fulfills the client's requirements
Our team of expert web app developers has the capability to develop responsive and highly optimized web apps
We provide web application development services at highly cost-effective prices which can reduce your development costs by almost 50%
We follow a transparent development methodology and the client in the loop at every stage of the process
Our support continues even after the web app is developed which includes regular maintenance and updates
Develop a Web App for Your Business Today!
Outsource2india, a well-known web application development company, has been providing high-quality mobile app development services for over a decade to clients around the globe. Our team starts by analyzing your various requirements, current market trends, your business model and then moves forward towards the development phase while advising you about the right approach to take. We follow the best practices in the industry to provide results within a quick turnaround time.
If you have any mobile custom web app development requirement, feel free to talk to our representatives or write to us and we will get back to you within 24 hours.
Get a FREE QUOTE!
Decide in 24 hours whether outsourcing will work for you.
Have specific requirements? Email us at:
Get a FREE QUOTE!
Decide in 24 hours whether outsourcing will work for you.
Have specific requirements? Email us at:
INDIA
Flatworld Solutions Pvt. Ltd.
No.6, Banaswadi Main Road, Dodda Banaswadi, Bangalore - 560 043
---
#81, Survey No.11, Indraprastha, Gubbi Cross,
Kothanur P.O., Hennur Bagalur Main Road, Bangalore - 560 077
---
Corporate Court, #15, Infantry Road,
Bangalore - 560 001
---
Flatworld Mortgage Pvt. Ltd.
No.744, 15th Cross, 24th Main, J P Nagar 6th Phase,
Bangalore - 560 078
USA
Flatworld Solutions
116 Village Blvd, Suite 200, Princeton, NJ 08540
---
Flatworld Mortgage LLC
116 Village Blvd, Suite 220, Princeton, NJ 08540
---
135 Camino Dorado, Suite 7, Napa, CA 94588.
PHILIPPINES
Aeon Towers, J.P. Laurel Avenue, Bajada,
Davao 8000
---
KSS Building, Buhangin Road Cor Olive Street, Davao City 8000