Outsource Real Estate Photo Enhancement Services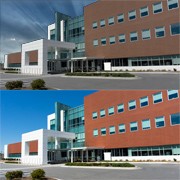 A picture speaks a thousand words, especially when it is of a real estate property which cost half a million dollars apiece.
Real estate companies need appealing imagery to attract potential buyers and this becomes the primary weapon for any sales and marketing effort. Great imagery requires brilliant photographers and across the world some of the best photographers play a pivotal role in enhancing photos for high-quality properties in many locations. However, most photographers face impediments of light, wrong backgrounds, blurry focus, distortions etc. during photo shoots. The inside track of getting perfect images is known to the professionals - specialized real estate image editors! Every impediment goes through the hands of a studio artist, worldwide the most labor intensive job in the photo studio.
Real estate photo enhancing services consume a lot of time and therefore add a lot of costs to the final perfect imagery. Imagine a 30 to 40% savings in every image. Imagine a group of talented image editors working exclusively on your RAW photo shoot images. It's a business advantage that smart real estate companies across Scandinavian countries, Europe, US, Australia, and the UK have used over the last decade.
Outsource2india, with its 100+ specialized real estate image editors, have been providing a perfect partnership to over 250 clients across the globe annually and edit close to 1.5 million images annually.
Our editors are quick to spot the need for color correction, over or under exposure, dark spots, removal of shadows and other distortions and resize images for web or print as needed. Their decade long experience with specialized photographers gives them a keen eye for detail. Every project from an international studio or a real estate company is personalized with special editing instructions and quality matrices.
Outsource2india's Real Estate Photo Enhancement Expertise
Over the years, we have been approached by clients belonging to various nationalities for our effective services. Some of the client requirements on special tasks include -
Removal of unwanted objects
Background replacement
Image density adjustment
Lens correction
Correcting blurry pictures
Time stamp removal
Correcting faded edges
Addition of texts/objects
Correcting horizontal and vertical perspective distortions
Some of the big names in real estate and big editing studios in Norway, Sweden, Netherlands and US don't invest large amount of time and resources to edit their images in-house, they focus on their core business activities which is to take photos and generate more revenue. If you are looking for price sensitive solutions for your real estate photo editing and enhancement needs, talk to our senior editors and Managers who can help you achieve your goal, and ask for personalized packages based on volume and turnaround time. Outsource2india (O2I) provides a comprehensive package of image editing services that can take care of your real estate image enhancement needs.
By outsourcing your work to O2I, you gain a partner who has an industry experience of more than 17 years and understands the need for on time, high-quality images for real estate companies and websites. Our scalable operations ensure the image editing team at Outsource2india can edit more than half a million images per year.
We have multiple delivery centers in different continents that enable us to undertake large volumes of work without compromising on quality. We adapt the latest technological tools and best practices to ensure that you receive high quality images.
Real Estate Image Enhancement Workflow at Outsource2india
At Outsource2india, we follow a carefully defined process for editing real estate images.
Work flow at Outsource2india.
At Outsource2india, we follow a carefully defined process for editing real estate images.
We share FTP (File Transfer Protocol) details with our clients to facilitate file transfer for image collection. Alternately, we also use file transfer software or methods preferred by the client.
The images received from the client are assigned to our image editing team with clear instructions on real estate image enhancement services.
Using the latest version of Adobe suite, our image editing team enhances your real estate images as dictated in pre-agreed guidelines.
Our Quality Assurance (QA) team performs random quality checks to ensure that the edited images meet the client's expected benchmark.
The edited images are uploaded via FTP in the client's preferred format for review within 12 hours or less.
During this process, our image editing team checks if automation can be designed or applied on the process for faster delivery. A minute saved is a $ saved for our client. Building efficiency has been the operational forte of the Editing studio at Outsource2india.
Why Outsource Real Estate Image Enhancement Services to Outsource2india?
There are many reasons why choosing Outsource2india can deliver exceptional benefits for your business. Some of them include -
Skilled Resources - The editors at Outsource2india have a minimum of 5 years' experience in image editing, with adequate expertise in the latest Adobe Photoshop CS6, Adobe Photoshop CC, and Adobe Photoshop Lightroom
Swift Delivery - Our scalable model enable us to deliver your projects in a swift manner. Our general turnaround time is 24 hours to 48 hours. We can also provide overnight turnaround if required
Quality Standards - The Quality Assurance team at Outsource2india performs quality checks for every image that is edited and ensures that it meets the client's expected standard. We ensure that all edited images have an accuracy level of more than 98%
Guaranteed connectivity - We utilize 50mbps Internet T1 lines from multiple service providers to ensure seamless flow of images 24/7
Contact Outsource2india Today for Real Estate Image Enhancement Services
By partnering with O2I, you will receive high-quality real estate image enhancement services and other related real estate image processing services at affordable prices. Our pricing structure is personalized to suit the needs of different Premium studios, large corporation or organizations and photographer networks.
Contact us today to outsource your real estate image enhancement services.
BEFORE & AFTER SAMPLES
Move your mouse over below samples to see the BEFORE image
We customize pricing for your outsourcing projects.
Our photo editing services have created global success stories.