Top 5 Trends in Medical Transcription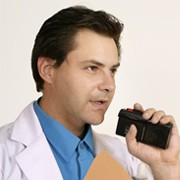 Today, we live in a sci-fi world. Things that we thought to only belong on the silver screen are now a reality. The influence of this rapid technological growth can already be seen in various aspects of our lives, and its effect on various industries including healthcare is undeniable.
At the same time, even with all the recent healthcare technological advancements, there are a few tasks which still require old-fashioned dedication and hard work to complete. One of them is medical transcription. Despite long standing predictions about how physicians would be moving on to speech recognition and hands-free typing, the truth is that the market demand of medical transcription is only increasing by the years. More than 95% of the patient information is still created with the help of transcription, and the future of medical transcription looks bright and sunny as compared to many other similar technologies.
Medical Transcription Trends in 2018
Healthcare has seen a Revolution in Medical Transcription. The relentless drive towards more complete, accurate, and easily accessible patient information has led to medical transcription occupying the headlights front and center. The fact is that so many facets of the day-to-day healthcare process depend on transcription that without a properly functioning transcription department, HIM directors feel at a complete loss. This coupled with the fact that transcription is one of the few places which accept new infrastructure and technologies with open arms, and we can easily understand how healthcare is so dependent on medical transcription. Let us have a look at some of the latest trends in medical transcription and try to decipher how this industry is set to perform in the coming few years -
A Globalized Medical Transcriptionist (MT) Workforce

Like most businesses that require heavy, professional staffing solutions such as call centers, developers, etc., medical transcription has also found a fertile field by being outsourced to countries which provide highly skilled labor at a fraction of the cost. Such countries, such as India, provide a potent combination of skilled and low-cost employees along with surplus technological infrastructure and government-sponsored beneficial initiatives.

Most professional service providers in this domain not only are well versed in all US laws pertaining to medical transcription, but have extremely serious quality control protocols set up so as to ensure complete client satisfaction.

Internet-based Technologies are on the Rise

One of the most important medical transcription trends is the rapid acceptance that internet-based technology has seen in recent years. While adoption of such technology is still years behind other industries such as banking, shipping, etc., healthcare professionals are still going to benefit greatly from all the improvements that technology brings, such as -

Access to in-house, communal, local, and even worldwide labor at the touch of a button
Flexible gain in operational efficiencies
Zero capital expenditure on equipment purchase as many SaaS-based software are available to use
Instant and transparent access to patient information

Furthermore, the gradual move towards ASP (Application Service Provider) architecture by most vendors further accentuates the importance that technology plays in transcription processes.

Seamless Connectivity and Automation

One of the top trends in medical transcription is the seamless connectivity with which transcription files are recorded and uploaded to a central database for physicians to peruse. This is of the utmost importance since one of the biggest challenges facing transcriptionists is the ability to securely control and automate information flow between different platforms and between different staff members. In the future, we can expect medical transcription to take advantage of various techniques such as trans-coding of voice files, instantaneous document reformatting, ADT normalization, etc. with ease.

Regulatory Changes for Overall Betterment

The arrival of HIPAA created a lot of initial teething problems for the healthcare sector, and the future of medical transcription is now more or less tied to how efficiently a medical center utilizes HIPAA regulations to streamline their own processes.

Most transcriptionists would agree that the arrival of HIPAA actually pointed out how disjointed the various medical transcription processes actually are, as well as how lackluster the overall security of the process is. In the future, we can expect more medium and large scale medical transcription services investing towards a better future by incorporating regulatory changes in each step of the process, thereby giving their customers a much-needed confidence boost.

Enhanced Secure Process Networks

Without doubt one of the standout medical transcription trends to surface in 2018 is the urgent requirement for end-to-end secure processes and protected sharing protocols. As medical transcription becomes increasingly mobile with the use of cell phones and tablets, security issues pertaining to patient information has now become a reality. Therefore we can expect that network and IT security will become more stringent, while protecting confidential data from both internal and external security lapses.
24 hours
TAT
98% Accuracy
40% Cost Reduction
300+ Customers
24 years Experience
Customer-oriented healthcare outsourcing is our forte. Get in touch with us
Choose Outsource2india for all Your Medical Transcription Requirements
At O2I, we have more than 24 years of experience in providing highly customized healthcare BPO services to clients over the world. Not only do we offer 100% HIPAA compliant services, but also ensure utmost security and confidentiality of your data.
Our experienced and professional transcriptionists can handle it all, from basic medical correspondence to complex research, and more. Contact us right away with your medical transcription requirements and see how we can make a valuable change to your future business goals!
Get a FREE QUOTE!
Decide in 24 hours whether outsourcing will work for you.
Have specific requirements? Email us at:
USA
116 Village Blvd, Suite 200,
Princeton, NJ 08540