Android App to Streamline Healthcare Resource Allocation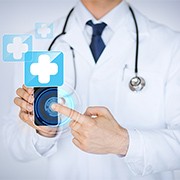 The Client's Business Requirement
Our customer is a renowned UK-based health service provider. Since scheduling appointments for clinics and hospitals can have many disadvantages, our customer was looking for an android-based doctor appointment app which would be able to schedule appointments based on the availability of the doctors.
Manual scheduling often led to poor resource allocation in his healthcare facilities, especially when patients didn't turn up or when the doctors skipped their appointments. Therefore, our client was looking for an Android healthcare app which could operate in an efficient manner while remaining easy to use by both patients as well as doctors.
Project Challenges
Our team of highly experienced mobile medical app developers faced a few challenges during the execution of the project, including the following -
The biggest challenge was that the customer wanted a medical appointment app which was simple, useful and not cluttered with too many functionalities
The design of the android medical app had to be simple enough to be used by elderly patients
Our Solution
Keeping in mind the exact client requirements and the various project challenges the following solution was provided by our team -
Our team developed an android-based doctor appointment app, Myclinic, which could be used by both patients and clinicians
Using this android medical app users could receive several additional benefits, such as -

Contact the clinics or hospital round the clock via call, SMS, or email and book an appointment
The health service provider can send important updates to their customers about clinic timings and availability of doctors
The customers can refer doctors and clinics to their friends using the Facebook and Twitter integration provided within the app
Geo-location of the hospital or the clinic could be easily displayed on the map
Patients could check the online doctor appointment status and also set appointment reminders
Patients could set reminders for taking pills as well
Results
The client was extremely satisfied with the doctor appointment app developed by our team. This app helped our client to streamline resource allocation in a highly efficient way. It helped them to cut down the time wasted due to patient unavailability, and in cases of cancellation of appointments by doctors. Due to the simple design and availability of the android medical app on every device, the number of patients also considerably increased.
Outsource Your Healthcare App Development of to Us!
Outsource2india has been in the mobile app development and healthcare applications domain for more than a decade now. Our expert team of mobile app developers boasts about having expertise in all kinds of mobile app development platforms such as Android and iOS.
If you have any kind of mobile healthcare app development requirement, feel free to get in touch with us or talk to one of our representatives. We will get back to you within 24 hours.
Get a FREE QUOTE!
Decide in 24 hours whether outsourcing will work for you.
Have specific requirements? Email us at:
Get a FREE QUOTE!
Decide in 24 hours whether outsourcing will work for you.
Have specific requirements? Email us at:
USA
116 Village Blvd, Suite 200,
Princeton, NJ 08540