O2I's Outbound Telemarketing & B2C Lead Generation Services Helped a Leading US Retail Giant Increase Footfalls During the Holiday Season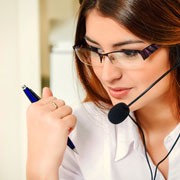 The Customer
This customer was a leading U.S. retail giant who decided to take the outsourcing route for the first time, and chose to partner with us for their outbound telemarketing and lead generation services.
The Requirement
The customer wanted to increase footfalls during the holiday season at its stores spread across the United States. Towards this end, the customer required us to set up an outbound call center with the following mandates:
Call all existing customers of the retail giant and inform them about festive season offers. Our outbound telemarketing agents were to urge customers to visit the nearest retail outlets of our customer.
Generate a huge number of leads to enable customer to follow up and close on sales.
The Challenge
Our customer is a well-established retail giant with a huge customer database. Time was of the essence on this project, wherein we had to reach the entire customer base in a very short time span, before the festive season ended.
The Solution
Outsource2india offered very competitive rates and landed the project with this prestigious customer. Next, our analysis with the retail company revealed that this was their first foray into the world of outsourcing. We took the time to provide insight to the company on the way the outsourcing model works, and how it can produce benefits to them on outbound telemarketing services.
Outsource2india worked in tandem with the customer to ramp up rapidly and set up the outbound call center. The customer selected the call center agents and trained them. A call script was also provided by the customer.
Our telemarketing agents worked on this project out of multiple delivery centers to provide redundancy on this project, where time was critical. This also acted as a business continuity plan for the project.
The Result
A satisfied customer! The customer was happy that Outsource2india agents were able to reach out to ALL the people in their database - each and every person on the database was called and informed about the festive offers within a short time period. Our lead generation services helped them in increasing the sales.
Besides this, the other tangible benefits were:
Quick turnaround time
Significant cost savings
Outsource2india helped build customer loyalty for the retail giant
Other facets of this project specially appreciated by our customer:
Our initial information sessions with the company regarding the way the outsourcing industry works were very helpful to them in planning and making forecasts for their next outsourcing venture.
Outsource2india was very flexible in incorporating changes to the telemarketing calling script that were made at regular intervals by the customer.
Get a FREE QUOTE!
Decide in 24 hours whether outsourcing will work for you.
Have specific requirements? Email us at:
USA
116 Village Blvd, Suite 200,
Princeton, NJ 08540
Call Center Services in Philippines Hire Talented & Friendly Agents for your Call Center Read More