O2I Provided Inbound Technical Support Help Desk Services to a Leading IT Services Company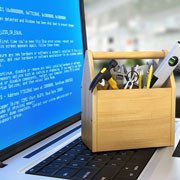 The Customer
This customer is a leading IT services company based in the US that provides a host of IT applications and add-ons. This was our first engagement in inbound technical support with the company.
The Requirement
The customer wanted an inbound technical support help desk / remote IT support center, to cater to the technical queries and issues faced by their customers in the U.S.
The Challenge
Our customer provided a diverse range of IT services and solutions. So, staffing the help desk was our biggest challenge. Technical Support Staff answering the inbound calls had to be:
Technically proficient in a variety of tools and technologies.
Experienced enough to fix customer issues over the phone, and to answer complex technical queries capably.
All this was to be done in an economical manner within the customer's expected budget. The call center staff received the required technical training from our customer.
The Solution
Outsource2india rose to the challenge as always and used the vast experience we have garnered on previous, remote IT support projects to ramp up fast. Our solution was three-pronged:
Targeted Staffing: We staffed the technical helpdesk with an able and experienced team who had worked on similar projects, and had broad knowledge of the platform(s) our customer's IT solutions were based on.
Training: These support staff were further trained on the specific solutions and services offered by our customer so that they could respond to calls confidently and solve problems in a speedy manner.
Economy: We used the economies built in the outsourcing model, to locate the technical support help desk services in Bangalore and passed on the savings to the customer so as to meet their budget.
The Result
The remote IT support center has been functioning for the past few years in Bangalore. Outsource2india has been consistently meeting, and exceeding the SLA agreed upon with the customer. There has been NO issue logged with respect to Outsource2india's services on this inbound technical support project.
The customer is very happy with our (ongoing) support services; and tangible benefit metrics, though available, cannot be shared due to customer confidentiality issues. However, we are happy to report that our customer has noted the following:
All technical queries are being handled with precision.
The company's technical products and services are being simplified for those who call.
Outsource2india has proven itself in providing the right infrastructural support to handle all calls.
The customer is delighted with Outsource2india's services and the project is an ongoing one.
Get a FREE QUOTE!
Decide in 24 hours whether outsourcing will work for you.
Have specific requirements? Email us at:
USA
116 Village Blvd, Suite 200,
Princeton, NJ 08540
Call Center Services in Philippines Hire Talented & Friendly Agents for your Call Center Read More