Outsource2india Provided Product Support Services to a Leading Network Security Company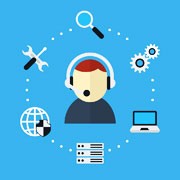 The client
The client is a primary network security information management company based in USA with its business spread across all major parts of the world.
The business challenge
The client realized the need for a strong support setup along with the product sales. The client is curious to find a partner who could support them in eliminating the risk of failure and can cater to their unique needs. The challenges faced by the client were:
Enhanced pressure for product support to the US support team due to a rapidly growing customer base
8x5 US functional timings which meant operations limited to US day time
Demand for reduction in turnaround times for non-US customers like Asian and European customers
Demand to reduce support costs
The solution
We identified and assembled a dedicated team of product support engineers who were highly qualified and experienced in the streams of Oracle, Networking, Operating systems and Network Security. We also setup a secure and dedicated support operations center with voice, email and internet infrastructure. The operations center was highly secure and capable of hosting a test simulation environment.
The entire solution was implemented in a series of phases:
Started first providing US night time operations and then started providing 24x7 operations
Initially started with e-mail support and later included voice support and chat support
Implementation of the severity levels of support in the form of a resolution process
Implementation of an escalation process to escalate the critical defects to the engineering team in the US
Implementation of a call tracking system to collate all call-related data
Creation of a formal training program to improve support operations
Establishment of a dashboard and MIS to improve support operations
The results
We were able to meet the requirements of the client precisely with 6 months of the project. In this period we were able to improve the quality of the client's support operations and enhance their overall business process.
Some of the areas of improvement include
Reduced workload for the support team in the US
Implementation of 24x7 support operations
Improved support for worldwide customers
Diminution in the overall costs as a result of offshoring
An increase in customer satisfaction
Contact us to outsource product support services to O2I.
Get a FREE QUOTE!
Decide in 24 hours whether outsourcing will work for you.
Have specific requirements? Email us at:
USA
116 Village Blvd, Suite 200,
Princeton, NJ 08540
Call Center Services in Philippines Hire Talented & Friendly Agents for your Call Center Read More