O2I Provided Disaster Recovery Services for a Client's Offshore BPO Center to Ensure Fail-safe Backup for Their Operations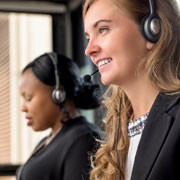 A leading general insurer in the UK was able to expand the operations of its captive offshore BPO center in India by tying up with us for business continuity services.
Note: Due to the confidential nature of our business we are not at liberty to disclose the name of our client.
The Client
The client is a leading general insurer in the UK and part of a group that is one of the world's largest finance and accounting service providers with a presence in over 70 countries worldwide. The company's captive offshore development center in India was set up to provide business process outsourcing solutions.
The Need
In an environment that depends on daily, minute-to-minute customer interaction and business decisions over the phone, the company could not afford downtime. Recognizing the importance of ensuring business continuity in the event of outages, the company was looking for a highly reliable local vendor to provide fail-safe backup for the operations of its captive offshore development center in India.
The company already had disaster recovery strategies in place in the UK, and continued to use the UK DR facility after moving work offshore. However, the company was conscious of the fact that the time and cost of moving people from India to UK during a disaster would be too high to provide a practical solution in the long term. The company decided to identify a local vendor to provide DR services to its successful offshore BPO center in Trivandrum, India. This would enable the company to concentrate on expanding its operations in Trivandrum itself instead of identifying an alternate city for its expansion plans, which would have meant an exponential rise in the associated management costs.
The Challenge
To provide business continuity services to meet the exacting requirements of the large global customers of the client
To have the technology, people and processes in place that would enable seamless transition of the process from the company's captive offshore development center in India with minimal disruption in the company's day-to-day operations, while maintaining the same high standards of service
The O2I edge
Domain expertise
Outsource2india has strategic partnerships with domain specialists to offer its customer's industry- focused services. The client selected our 250-seat Disaster Recovery Center in Chennai, with proven expertise in serving global customers in the BFSI sector, to back up its business processes. The center has experience in providing US-based global customers with business continuity services since 2003.
Continuous development and on-going training
People are the backbone of business continuity operations. Outsource2india makes significant investments in comprehensive training programs to equip our agents for the specific challenges of the disaster recovery process.
Ready-to-deploy technology and infrastructure
Leased lines
Network connectivity
Servers and personal computers
Trained technical personnel
Data security and infrastructure reliability
All of the above placed us in a position to enable smooth and seamless transition within 48 hours from the client's India operations to our disaster recovery center.
Special Features
99.99% reliability
Our state-of-the art technology infrastructure with redundancy, fail over and load balancing features enables us to achieve 99.99% reliability.
Seamless expansion
Compliance with open standards architecture and expansion features enables seamless expansion of existing facilities without interruption to existing operations.
Productivity and increased efficiency
We also use a state-of-the-art predictive dialer that handles all outbound calls, resulting in dialing productivity and increased efficiency.
Business continuity planning
We have established business continuity sites in India and overseas through strategic tie-ups with other centers to provide disaster recovery services. We have ensured backups in our entire technological infrastructure, from servers, processors, leased lines, and storage systems through fully backed up UPS and generator systems.
The Achievement
The client did a complete due diligence of our facility and we emerged as the only player from their shortlist of companies - they found that we were the ones who knew what we were talking about in terms of DR. Our detailed proposal impressed the client and included some innovative suggestions regarding the client's logy connectivity. These suggestions were eventually accepted and implemented by the client. Our past experience in offering similar services to a US client was another reassuring factor that built the company's confidence in our capabilities.
The company signed a 3-year contract for business continuity services with the tough clause that if the commissioning test did not succeed for whatever reason, the deal would be cancelled. It was only after sign-off that testing could be conducted, and exceeded the expectations of the client.
The Disaster Recovery site was up and running ahead of the time specified. In keeping with our partnership approach, testing was undertaken jointly with the client prior to 'go-live.' After operations went live, all annual test requirements were met.
Results
The client mitigated operational risks with O2I's reliable business continuity services which offered consistently high levels of quality and efficiency.
Outsource2india believes in long-term business relationships and the benefits of year-on-year savings through a 3-year contract are passed on to the client. Our client now has a reliable DR vendor, thus enabling it to focus on the consistent growth of its own captive offshore BPO center in India.
We have served many clients globally for disaster recovery services and business continuity plan. Contact us for a disaster recovery plan.
Get a FREE QUOTE!
Decide in 24 hours whether outsourcing will work for you.
Have specific requirements? Email us at:
USA
116 Village Blvd, Suite 200,
Princeton, NJ 08540
Call Center Services in Philippines Hire Talented & Friendly Agents for your Call Center Read More