Outsource Movie Editing Services
Outsource2india specializes in providing high-quality movie editing services to global clients. At O2I, we create movies that leave lasting impressions on viewers and influence audiences. Our trained and experienced movie editors create stunning short films, documentaries, and more.
If you are looking to edit any video or movie, opt for O2I. Movie editing services at O2I include color correction, subtitling, voiceovers, narration, effects, filters, enhancement and more.
Our Professional, Cost Effective Movie Editing Services
Over the last two decades, we've successfully aided over 19,000+ clients the world over. Movie editing services at O2I include -
Noise Removal

We correct shaky footage, eliminate background noises, and other unwanted elements, to create professional videos of any length.

Element Removal

We effectively cut out scenes, objects, people, and more, according to client specifications.

Shot Sequence Arranging

We correct inappropriately sequenced shots and create stunning videos that play thematically in chronological order.

Stabilizing Footage

We eliminate disturbances and random movements of the camera from the final edited movie. We stabilize shaky footage and create effective high-resolution videos that impact audiences.

Background Score

We replace sound, add sound effects, add background scores or lower thirds and more.

Color Correction

We improve overall color contrast, effectively correcting or improving color cast.

Subtitling

In addition to movie editing, we insert annotations and subtitles for the movie we edit. We work with a team of language specialists and translators who write the content in the language the client needs, and add titles and subtitles end credits, thank you's, etc.

Special Effects

We integrate different kinds of special effects including creative zooming, tilting, voice-overs, animations, transitions, music, sounds, and more to help captivate audiences.

Drone Video Editing

We standardize movie drone footage captured in outdoor locations and enhance with special effects according to requirements.

Background Score

We add music, sounds, background scores and more, based on the project requirement.
O2I's Movie Video Editing Services Process Flow
At O2I, our video editors are competent, trained individuals, adhering to ISO quality processes. We offer a range of video editing services and follow a process flow that includes the steps below -
01. Statement of Work
O2I's Business Development Managers discuss video editing requirements and Scope of Work (SOW) is finalized (including timeframes, cost, resources, etc.).
02. Input
Client transfers video footage via File Transfer Protocol (FTP) or Dropbox.
03. Video Editing
Video editors edit footage with Adobe Premiere Pro, Edius Pro, and Final Cut Pro X.
04. Review and Edits
First draft reviewed by the client. Edits and modifications carried out according to client input.
05. Approval
Client approval obtained and final designs uploaded via the File Transfer Protocol or Dropbox.
Movie Editing Software
O2I video editors use some of the latest movie editing software including -
Benefits of Outsourcing Movie Editing to Outsource2india
As a leading movie editing service provider, we offer a host of benefits to our clients. We offer attention to detail, 24/6 support, affordable prices, timely deliveries, and superior quality services. Reasons to outsource movie editing services O2I include -
ISO Standards - We are committed to providing high-quality movie editing. Our movie editing processes adhere to ISO standard guidelines.
Pricing - We offer hourly rates, customized pricing and Full-Time Equivalents (FTEs).
Skilled Editors - Our movie editors are trained to work on the latest tools and technologies.
Secure Data - We follow strict security protocols, including Non Disclosure Agreements (NDAs), General Data Protection Regulation (GDPR).
Fast Deliveries - Our movie editing services are delivered according to client agreed schedules.
Client Success Stories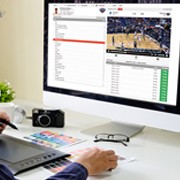 O2I assists NBA's sports analytics solution provider with video tracking services
O2I aided NBA's sports analytics provider with video tracking services for international basketball teams. We identified unique insights into player characteristics, game performances, and more.
Read more
O2I offers 3D modelling service to world's biggest hearing aid supplier based in Denmark
O2I offered 3D modeling support for more than 50 different models of hearing aids. We successfully created 3D models representing the actual product, matching textures, colors etc.
Read more
Testimonials
I am overwhelmed with the support & level of understanding of your team. The effort you spent in working out my DTP project diligently with a very quick turnaround time has helped my company reap immense profits. Looking forward to very successful business relationship in the coming years.
Graphics Manager,
A leading electronics company from South Korea
More Testimonials »
Choose Outsource2india for Movie Editing Services
With over two decades of video editing experience, we create well edited movies that impact viewers. We help reduce your in-house movie editing costs considerably without compromising on quality.
If you require any kind of movie editing, short film editing, or documentary editing requirement, get in touch with O2I today. Tell us your requirement and get a free quote within one business day.
Get a FREE QUOTE!
Decide in 24 hours whether outsourcing will work for you.
Have specific requirements? Email us at:
USA
116 Village Blvd, Suite 200,
Princeton, NJ 08540
Movie Editing Services FAQs
What does a film editor do?

A film editor is responsible for bringing together and even arranging raw footage, audio, speech, special effects, and other content in the correct order to satisfy the requirements before release.

How much do film editors make a year?

As per the Bureau of Labor Statistics, the US filmmakers earn an approximate of $40 per hour. While those less experienced take home $40000 annually, veterans work for no less than $80000 or higher.