Outsource Character Designing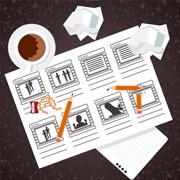 Every film maker would agree that while working on a film or a video script, elements which put the project into motion and give it the desired appeal are storyboarding and character designing.
Outsource2india offers character designing as part of the storyboarding services. By outsourcing character design services to O2I, we ensure time, talent, and money is saved. Our team has character design artists with multiple design talents and sketching styles. They have the creativity to breathe life into a film maker's characters and work with absolute clarity on the purpose, uniqueness, and accuracy of the film or video project.
Services We Offer
Outsource2india's character designing services are used extensively by film studios, animation companies and ad agencies worldwide. While engaging with clients we ensure proper assessment of the requirements and understand the end use. Our character designing services are created based on the medium. O2I's team of experienced character design artists are experts on various styles of designs and can work on vector, semi realistic, cartoony and realistic styles.
As part of O2I's character designing services, we offer end-to-end character design services or as individual applied services where each of these services can make storyboarding a much simpler task. As part of our character designing services we offer -
Character Bible / Model Sheet Services - O2I's character design artists can create "model sheets" or "character bible". After creating a character, studios can outsource it to O2I and our artists can sketch their full body by creating turnaround angles, transitions and transformation which helps bring the subject to life
Character Posing Services - To bring out more details of the character, our team creates key poses of the characters along with intermediate frames to indicate appearance of the character prior, during and post the transition while shifting from one pose to the next
Expression Sheet Services - O2I just requires the characters and we will create a whole repository of different expressions of all the characters. This becomes helps in easing the work on storyboarding
Character Costume Services - Based on the storyline and according to the client brief, our designers can create different types of costumes for the characters
Character Asset Design (Props) - We can create different types of assets based on the brief and the characteristics associated with the character. Here we can create a repository of props associated with the characters involved which can be used in storyboarding
Character Designing Process
Today with the dearth of manpower and talent, Outsource2india has recognized the potential in offering storyboarding services. We have a talented and experienced team of artists with fine arts background and adept right through the whole process - right from sketching and creating characters on the drawing board to finally rendering them as final images in the desired format. O2I's process for character designing includes the following steps, and we have the capability to handle individual services or complete end-to-end storyboarding services including the character designing services. We work on the following process -
Understand Character Concept
Get clarity on script and character
Create Rough Sketches
Rough sketches of characters done with pencil
Approve Character Sketch
Approval of rough sketch - Get feedbacks
Texture Character Sketches
Rough Sketches colored after feedback
Execute Client Iterations
Make changes based on client feedback
Render Final Images
Create Vector outputs - handover to client
Benefits of Outsourcing Character Design to O2I
Expert Designers and Artists

Outsource2india's professional character design team works with the single objective of delivering creative output, and have the ability to bring life to any character we design

Complete Responsibility

Outsource2india can provide turnkey solutions or a part of the studio's in-house teams' job and deliver different elements in character design. After brainstorming with the art directors and creative directors, we take complete onus to give shape to the character

Cost-effectiveness

With Outsource2india, every penny invested is completely worth it. Outsource2india undertakes character design projects of any size - be it for a feature film or TVC - our flexible pricing structure is designed to suit multiple budgets

Attention to Detail

Team at Outsource2india works closely and in-detail with the creator of the character during requirement gathering phase. We devote quality time to understand the minutest character details and every project is supervised by a Project Manager who oversees the entire operation and is the mediator between the client and the art team

Turnaround Time

Outsource2india has multiple delivery centers and this enables us to deliver projects on time. Project progress is intimated regularly and depending on the schedules, we have been able to deliver projects overnight

Availability

Outsource2india can be reached 24/6 and we have a sound support system in place. Our character design artists are open to suggestions and feedback, and are committed to deliver solutions that will not just meet, but exceed expectations

Security

Outsource2india is stringent about data security and privacy. Our staff is well-trained in quality control processes and understands the importance of information security
Choose Outsource2india for Realistic Character Design
At Outsource2india (O2I), accuracy, authenticity, and professionalism are the cornerstones of our animation services. Our fast turnaround time and highly competitive pricing has helped clients create storyboard characters that leave a lasting impression on the audience.
To receive high quality 3D animation services at affordable pricing contact our customer engagement team and our animation experts will respond within 24 working hours.
We customize pricing for your outsourcing projects.
Our creative design have created global success stories.