Case Study for Desktop Publishing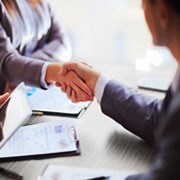 The Client
The client is a global investment manager providing services in the field of asset portfolio management and investments. It operates globally, and has presence in 27 countries, employing 2012 people, of which 340 are investment professionals. It follows a rigorous investment framework, providing value to the portfolio management through its proprietary research.
It offers wide variety of products across both traditional and non-traditional classes managed by investment centers in Boston, London, Dublin and other investment centers. It provides the most advanced solutions to investors.
Situation - Business Need
The client used a wide range of financial reports ranging from fact sheets to market strategy reports for its global investment centers and internal use. The client wanted to leverage on the cost savings and quality of an offshore Desktop Publishing solution, and therefore engaged our services to do the designing and publishing work. The outputs were required in the form of fact sheets, brochures, flyers, newsletters and PowerPoint Presentations.
Challenges
The challenges faced during the course of the project were -
The source files were sent to us in raw form, either in MS Word or MS Excel formats
Adhering to the guidelines provided by the client with regards to formatting, colors and typography
Assigning 4 designers and 1 supervisor - working as FTE (Full Time Equivalent)
Providing round-the-clock coverage for timely delivery
Guarantee 99.0% quality output
Deploy the latest, licensed software and proper infrastructure maintenance
The Outsource2india Solution
Our solution comprised of the following elements -
Employed adequate resources to meet the volume and Turnaround time
Understood the designing needs by analyzing the raw source files
Assigning skilled and knowledgeable graphic designers and DTP professionals
Guaranteed 99.0 % quality output
Assigned a supervisor for handling all client queries and resolving issues
Deployed the latest software and infrastructure facilities
Ensured the security of client data by using:

Secure VPN communication - IPSec/PPTP
McAfee Enterprise Suite for virus prevention and cure with HIPS (host intrusion prevention) and NAC ( Network Access Control)
Gateway level Anti Spyware and Spam Filter for Internet Access and Mail Server
URL Filtering application for surf control
Domain level access restrictions along with Group policy
Restricted Internet Access along with Domain Authentication
Centralized Server based storage
File system access policy based on user authentication
Allotting 3 to 4 Mbps dedicated bandwidth on Imaging department
Deploying 40 high end workstations with all the latest upgraded applications and licenses
Results
The client was able to leverage on the efficiency of our operations and benefited in the following ways -
Our solution was able to save our client 50% costs per annum
The client was able to capitalize on adequate training provided to our staff on new technologies
Outsourcing the project to us helped the client streamline its operations and improve efficiency
Get a FREE QUOTE!
Decide in 24 hours whether outsourcing will work for you.
Have specific requirements? Email us at:
Join the growth phase at Flatworld Solutions as a Partner
Service distributorship and Marketing partner roles are available in select countries. If you have a local sales team or are a person of influence in key areas of outsourcing, it's time to engage fruitfully to ensure long term financial benefits. Currently business partnerships are open for Photo Editing, Graphic Design, Desktop Publishing, 2D and 3D Animation, Video Editing, CAD Engineering Design and Virtual Walkthroughs.
Reach out to us for a quick direct response from decision makers at the Flatworld Solutions global team.
Contact us for more information
Get a FREE QUOTE!
Decide in 24 hours whether outsourcing will work for you.
Have specific requirements? Email us at:
USA
Flatworld Solutions
116 Village Blvd, Suite 200, Princeton, NJ 08540
---
Flatworld Mortgage Solutions LLC
116 Village Blvd, Suite 220, Princeton, NJ 08540
---
135 Camino Dorado, Suite 7, Napa, CA 94588.