Architectural Drafting & Drawing Services for an Architectural Firm in Canada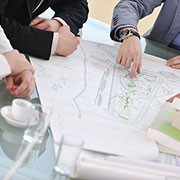 Our Client
A leading architectural firm, based in Canada, dealing primarily in the implementation of government projects
Looking for an offshore partner to whom they could outsource architectural drawing
Considering a long-term partner plan that would efficiently handle any increase in the volume of work and sudden spikes in drafting and drawing work-load
Challenges
We faced numerous challenges in coming up with the perfect solution for the client. Some of the challenges facing us were -
To be the best, most reliable long-term offshore solution for our client
To exhibit our high-level architectural drafting experience, so as to convince the client that we could deliver top-quality drawings on short notice
To prove that we kept abreast of Canadian building codes and standards, and had deep understanding of the end-client's expectations
Actions
We undertook several steps to meet the challenges posed by this architectural drawing project -
Engaging an experienced team of 2 technical drafters—with one on standby for sudden spikes in work load
Ensuring quality control checks as part of each process—including review of completed architectural drawings by multiple quality control managers
Ensuring that each task was personally checked by the CAD manager as part of the final QC process
Using AutoCAD, 3DS Max and occasionally Photoshop
Results
Our hard work assured that the client was satisfied with our quality and timely work. Our actions resulted in -
Huge cost savings - the client was able to save at least $5,000 per month—roughly 50% of the cost of getting the task completed in Canada.
Quick turnaround time - we ensured that the drawings were completed and delivered before the client woke up the next morning because of India's unique time-zone advantage.
High quality work - the team of drafters specially hired for the project ensured that we delivered high-quality architectural drawings, even for tasks that had to be completed on short notice.
Client satisfaction - the client was completely satisfied with our commitment, professionalism and flexibility.
Benefits for client - the firm is now able to focus on business growth, without having to worry about any operational tasks, which are being efficiently handled by Outsource2india.
INDIA
No.6, Banaswadi Main Road, Dodda Banaswadi, Bangalore - 560 043
Corporate Court, #15, Infantry Road,
Bangalore - 560 001
PHILIPPINES
Lucita Building Lapu Lapu Cr. Sobrecarey Street, Davao City 8000
USA
116 Village Blvd, Suite 200, Princeton, NJ 08540
X
First time outsourcing?
It's confusing. Isn't it?
We have been helping companies like yours outsource with confidence for over 21 years
See what our clients have to say »