Outsource Primary and Secondary Research Services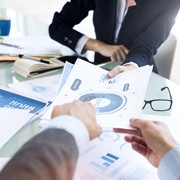 Acquiring pertinent business related information can be a time consuming, labor intensive task, which drains resources from other vital areas of a company. Yet businesses need multi-faceted, supportive information to aid in the decision and marketing aspects of maintaining a successful company. Outsource2india (O2I) features an expert research team that can ascertain the ideal research method for your specific needs. Our methodologies, built upon a foundation of scientific and empirical evidence, in conjunction with critical insight and market acumen, are designed to manufacture accurate research for our clients. O2I is a leader in Primary and Secondary Research Services that make outsourcing effortless and cost-effective for every industry.
O2I offers diverse SME's with specialties in fields relevant to today's business architecture, ensuring that your company will have authorities on hand to produce conclusive research in the segments needed most. Collecting viable information through techniques applicable to either primary or secondary market data, O2I provides clients with essential statistics, figures, and facts to aid them in their professional initiatives.
Our Primary and Secondary Research Services
O2I's exclusive, adaptable services cater to your business's varied research goals, gathering information across different sources, and securing details to be complied for assorted industry purposes.
Primary Research Services - O2I collects original data directly from the source and specific to prescribed research requirements; following a scientific method through various sources such as surveys, offline materials, emails, web material, or interviews
Secondary Research Services - O2I compiles information that summarizes, and synthesizes research received indirectly from pre-existing sources and materials, such as online sources, statistics, reports, and mathematical models
Qualitative research - O2I offers this exploratory, behavioral governing research option for understanding patterns within certain details of market research, and to aid in better understanding social science based data
Quantitative research - Through hard facts, computational techniques, and systematic exploration, O2I can gather unbiased research as part of our scope of research services
Advantages of O2I's Primary or Secondary Research Services
Companies within every industry can profit from research that delves deeper into the area most pertinent to your business model, overseen by the true specialists at O2I.
Receive frequent updates from O2I regarding any collected research data that your business needs
O2I has analysts who specialize in Pharma-Life Sciences and Financial Research who are able to work with industry professionals at the same level of expertise to gather necessary information and insights
O2I uses advanced research methods to ensure that we can find any information online!
Our market research team is able to work directly with your business's consumers to gather primary research straight from the source
Our knowledgeable team can efficiently locate and cycle through any available online information, reports, or articles to provide valuable secondary research and objective conclusions
Fill in the gaps from your missing information by utilizing a combination of Primary and Secondary Research related techniques
For complex Primary Research, O2I can carefully choose and profile targeted focus groups and audiences to ensure that the collected data is accurate
O2I can conduct secondary market research on specific products from commercial informational sources that provide data about economic trends and your consumer base
Investigate specific issues like feedback about your website, consumer response to your products, and the demand for your services with our expert Primary Research
Contact O2I for Expert Assistance Today
With an experience of more than 19 years in providing exceptional quality research and analysis services, Outsource2india has managed to create a niche for itself when it comes to high-quality KPO services. Contact O2I today for expert Primary and Secondary Research Services that will provide all factual Intel for all of your business needs!
We customize pricing for your outsourcing projects.
Our research & analysis services have created global success stories.