Outsource Business Intelligence Dashboard Visualization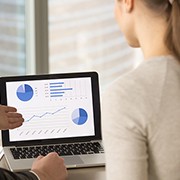 The trend of CXO reporting has been changing and requires more connectivity between all levels of internal departments. Therefore, having a visualization tool that's fully interactive can help create transparency of information. Easy to view displays and graphics can be an incredible asset for any company who wants to ensure their data is interactive, functional, and accessible across multiple devices, while still showcasing all the necessary business related information. Outsource2india (O2I) provides Business Intelligence Dashboard Visualization that is concise, secure, and customized to present your company's data to your specifications, all for cost effective prices. Our team of specialists has the expertise and experience to offer a range of organizational dashboard methods and attractive graphics to enhance your company's data.
With O2I's personalized implementation techniques, which include Client Driven Features, or Features Based on Industry and Domain Expertise, you can depend on expertly designed, high performing dashboards that ensure your business can maintain data as needed. For superior, streamlined dashboards that are fully supported by your company's preferred Cloud solution, look to O2I's exclusive Business Intelligence Dashboard Visualization Services.
O2I's Business Intelligence Dashboard Visualization Services
At O2I, our innovative Business Intelligence Dashboard Visualization Services are customized with adaptive technologies to maximize the dashboard development process. Services include, but are not limited to -
Marketing Dashboards
Performance Dashboards
Metrics Dashboards
Business Analytics Dashboards
Executive Dashboards
KPI's Dashboards
Sales Dashboards
Operational Dashboards
Business Research Dashboards
Our BI Dashboard Samples
Benefits of O2I's B.I. Dashboard Visualization Services
Businesses will notice marked improvement in their data presentation with O2I's Business Intelligence Dashboard Visualization Services, which incorporates interactive, visually striking content exactly as you require.
O2I can create a B.I. dashboard that suits your business's precise informational layout goals - whether it's designed with your custom modifications (Client Driven Features), or showcases industry standard attributes (Features Based on Industry and Domain Expertise)
We have the technical skills to provide Connectivity between corporate databases in the back end, and Visualizing tools on the front end.
Our team can alter and improve your business's existing B.I. dashboards by updating and redesigning currently used configurations and layout for a more impressive dashboard experience.
O2I can incorporate collaborative tools for a variety of interactive usages across all level of your company's personnel.
Acquire stunning visuals to enhance your data with O2I's extensive proficiency in dashboard providers like Qlikview and Tableau, handled by our team of creatively focused programmers.
Enjoy flexible solutions for your B.I. dashboard from O2I, such as mobile accessibility, PDF exporting capacity, and sharing capabilities across email and Cloud technology.
Businesses can monitor and track changes in project performance data, inspect billing forecasts, and resource allocation with ease.
Retrieve your business's data from a variety of sources such as Excel files, databases, PDF, and more with O2I's adaptive API features.
O2I is able to represent your company's data placing an emphasis on advanced intuitive infographics and creative graphics, in addition to a spectrum of illustrative techniques like tables, bar graphs, line charts, gauges, and more!
Contact Outsource2india for Professional B.I. Dashboard Visualization Solutions Today!
At O2I, our visualization experts have the technical knowledge as well as the flair to create appealing dashboards for a large amount of data. From tables, to line charts, bar graphs, gauges, etc., we ensure your data is represented in the most succinct way possible.
Our team is ready to collaborate with your business, and provide you with the highest standard of creative, custom Business Intelligence Dashboard Visualization Solutions. Contact O2I today and receive a risk free assessment!
We customize pricing for your outsourcing projects.
Our research & analysis services have created global success stories.