Outsource Paper to CAD Conversion Services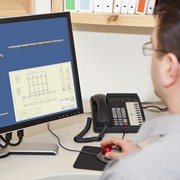 Scanning of paper drawings and digitizing them has become the most effective way of documenting drawings and other related information in an organized manner. Handling, storing and maintaining paper drawings are tedious with the possibilities of damaging or losing them.
The process of digitization is also referred to as Raster to Vector conversion.
We convert paper drawings into high precision, dimensionally accurate AutoCAD files. Paper to CAD conversion can be done on Site Plans, Floor plans, Exterior Elevations, Roof plans, Foundation Plans, Electrical Plans, HVAC etc.
O2I's Expertise in CAD Conversions
Our team comprises of Engineers, Architects and Draftsmen who have rich experience across various industry verticals and are familiar with codes of practice globally. We can seamlessly put together your data and sketches to give you accurate final drawings. We not only convert, but also add value by pointing out errors and correcting them whenever needed. We ensure quality not just from a conversion standpoint but also from an operational and functional perspective. By outsourcing CAD conversions to O2I, you can benefit greatly from our extensive experience in designing floor plans, creating elevations and electrical HVAC layout designs. Our CAD Conversion Services will deliver value to you.
Customized Drafting Solutions
Through VBA Programming in AutoCAD we offer customized solutions to achieve quick turnaround time. Standard methods for drafting are also employed using AutoCAD-VBA integration. Auto lisp, VBA programming as well as programming in C++ has helped us carry out complex but repetitive tastes with great speed and accuracy.
Advantages of outsourcing Paper to CAD Conversion
Engineering Document Management (EDM) and Product Data Entry (PDM) systems can be employed to archive and manage CAD drawings systematically
Reduced retrieval and print time of the electronic files
Improved information flow via email and other means
High quality drawings with accuracy in dimensions
Lesser chance of damage or data loss
Outsourcing CAD Conversion Services to O2I
Reproduce superior quality drawings from poor quality originals
Save time vs. digitizing tablets, redrawing, copying and printing documents
Conversion from raster format to CAD perfect geometry
Enhanced services to customers at a lower cost
Increased productivity and control
Eliminate misplaced drawings and documentation
Get shared access to large files and databases
Outsource CAD conversions to India
Outsource your Paper to CAD Conversion needs to India. Let Indian companies handle the paper, so you can get down to business! Please tell us about your Paper to CAD Conversion requirements by filling in the inquiry form. Our Sales Team will contact you within 24 hours.
Please contact us here with your Paper to CAD Conversion requirements.
Outsource your Engineering Services to O2I
INDIA
No.6, Banaswadi Main Road, Dodda Banaswadi, Bangalore - 560 043
Corporate Court, #15, Infantry Road,
Bangalore - 560 001
PHILIPPINES
Lucita Building Lapu Lapu Cr. Sobrecarey Street, Davao City 8000
USA
116 Village Blvd, Suite 200, Princeton, NJ 08540