Outsource Supply Chain Analytics Services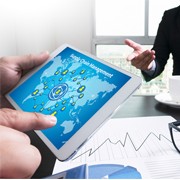 Supply chain in any organization mainly deals with the movement of goods or products and involves the use of technology, people, information, and resources. Supply chain optimization is usually the topmost priority for any organization looking to increase customer satisfaction, reduce operational costs, and sustain business growth. The entire supply chain needs to be analyzed in detail so that it can be tweaked to get the most optimized supply chain model.
Outsource2india provides the best-in-class supply chain analytics services which help organizations optimize their supply chain process. Outsourcing analytics services to us can help you achieve top-line growth, enhance profitability, and rapidly increase market share. We provide integrated view of the supply chain and key insights which help organizations take key data driven decisions.
Outsource2india's Supply Chain Analytics Services
We believe in providing our clients with the best supply chain analytics services in the industry, and have been doing so for over 19 years now. Our vast experience of having worked with different clients helps us understand different businesses and how their supply chain processes work. Our services include -
Data Assembly

Research and analysis team at Outsource2india will log and check necessary data and cleanse the data if needed before applying any analysis on the supply chain process

Create Decision Diagrams

We will create decision trees or diagrams based on the available data which will help us to make fast and good business decisions to improve the supply chain of your organization

Pattern Recognition

We analyze various data present in the supply chain industry and use it to create models which can be used to take key business decisions and optimize your supply chain and make it more efficient

Principle Component Analysis

Our team at Outsource2india uses this method to accurately determine the key points which govern all your business processes and its supply chain process

Data Segmentation

Using the obtained data, we segregate it into different sections depending on the type of data available and correlate it to your industry

Client Analytics

We will conduct a thorough research and analyze various client-related data and find an ideal solution to optimize the supply chain process and how it can be made better for better client satisfaction

Trend Analysis

Our team at Outsource2india has the required expertise to conduct detailed analysis on huge sets of data and determine the latest trends in your industry and take key business decisions based on the analysis

Client Intelligence

Our research and analysis team will gather the required client demographic data according to your requirements, and pick key points of intelligence from them to use it for further analysis

Quality Analysis

We will gather the necessary data, clean it as per the requirements, and ensure it is of high quality for future analysis
Why Choose Outsource2india for Supply Chain Analytics Services?
Outsource2india has been providing quality research and analytic services to clients from different verticals for over 19 years now. Our team of research and data analysts is trained to handle any kind of analysis requests. We work with supply chain teams of various organizations to help them optimize their supply chain process.
Some of the reasons for you to choose us include -
We have the required expertise in predictive risk modeling, stress testing, model validation and maintenance which hold key importance in the supply chain process
Our updated knowledge is well complemented by our highly flexible operations model which helps our clients handle varying market scenarios
Our cost-effective supply chain analysis services help clients save considerable amount of time and money
We have a large pool of talented resources with unique research and analytical skills who are knowledgeable about supply chain analysis, and this is the key to our success
We have sound knowledge about Big Data technology which helps us to provide an integrated and technology-enabled analytic solutions
Our team excels in carrying out complex calculations during analysis including cluster analysis, time series analysis, crosstab, chi-square, ANOVA, logistic regressions, etc.
All the data you share is completely protected by non-disclosure agreements and workstation data security policies
All our processes are ISO certified and you can be assured that we will deliver high quality results at all times
Outsource Supply Chain Analytics Services to Us
Outsource2india has been providing quality supply chain analytics services and a plethora of other business analytic services to clients around the globe. Our services are specific to your requirements and delivered within a quick turnaround time through our multiple delivery centers spread across the globe. Our team of data analysts is well-trained with latest technologies and has access to some of the state-of-the-art infrastructure to provide best-in-class services. We provide flexible pricing models to our customers and ensure that they have a great customer experience working with us.
If you are looking for a reliable supply chain analytics service provider, then you have come to the right place. Talk to our executives or write to us and we will guide you through the entire process.

We customize pricing for your outsourcing projects.

Our research & analysis services have created global success stories.