Route Optimization Services
The rising cost of fuel around the world is forcing logistics and distribution companies to find ways to reduce overall costs. While most companies have found ways to decrease packaging costs, warehousing costs and administration costs, transportation costs still remain a challenge! Learn how O2I's Route Optimization Services can solve this problem.
Route optimization helps businesses to bypass the issues caused due to inefficient route planning, and in streamlining their delivery and dispatch management systems for better gains. As your business grows, perfecting the route plan for your logistics division soon turns from an interesting affair to a meticulous one. With the help of Outsource2india's dynamic route optimization services, you can easily plan multiple routes and a variety of different schedules with hundreds of stops within seconds. Our route optimization services make use of cloud-connected software to help you automate delivery routes and manage your resource capacity efficiently, reducing costs by as much as 20%.
Our Dynamic Route Optimization Services
At O2I, we work with cutting-edge technologies and use the latest predictive analytics for dynamic route re-sequencing and optimization. Our delivery route automation and big data driven solutions are ideal for both medium and large-scale businesses and can help you analyze large amounts of mapping data in a few seconds. Outsourcing route optimization services to O2I can not only help you reduce costs, but also help you achieve better customer satisfaction. Our services include -
Advanced Machine Learning-based Automated Route Planning

Our end-to-end solutions for route planning are derived from an optimization engine which is constantly powered by genetic algorithms and advanced machine learning techniques. A team of experts with experience in big data technologies, data science and data engineering ensure that all alternate transportation methods, related costs, and customer delivery windows are taken into consideration before planning a route. Once the routes are planned as per your requirements, our Automated Route Optimization system keeps re-optimizing routes in response to your input, the input received from your drivers/vehicles, as well as from the feedback received from your customers.

Robust Constraints Engine for Better Customization

Cognitive computing and deep learning form the basis of our robust constraint engine which can easily identify the exact number of transportation assets available at any particular time and where to domicile these assets. This is based on -

Static constraints and dynamic near real-time constraints
Domain-specific pre-packaged constraint types
User-specified priority and applicability of constraints - e.g., constraint applies to an individual delivery point, or to all routes based upon directions specified by the client

Late Freight Swapping

Our route optimization system allows you to add or delete one or more delivery points at the last moment, even after your vehicles are out for delivery.

Dynamic Route Sequencing and En-route Optimization

Predictive traffic route optimization and recurring route optimization feature allows you to dynamically pick the most ideal delivery route, and assign or re-assign delivery routes quickly. This will reduce the delivery time, increase number of deliveries per day, and save fuel, cost and time.

Dynamic Directed Fueling Optimization

Delaying deliveries to go all the way back home to re-fuel not only leads to wastage of fuel, time, and money, but also leads to disgruntled customers. Optimizing fueling dynamically allows your vehicles to find the most affordable location in the vicinity to replenish fuel or gas.

Customizable Reporting Services

Our delivery route automation services help to optimize the cost associated with your freight carriers, number of visits, distance travelled, and the fleet size allowing you to achieve a measurable increase in your ROI. Customizable reports are generated as and when required allowing you to manage your agents in real time by setting estimated service, pick up and drop off quantities, etc.

Other Services -

Apart from the above mentioned services, we also offer -

Call Center-based Route Re-sequencing
Long-term Planning
Predictive Traffic Route Optimization
Traffic-based Route Re-sequencing
Final Mile Route Optimization
Pick and Drop Off Routing
Inserting New Addresses into optimized Route
Modeling with Multiple Constraint Types
Moving Stops from one Route to Another
Duplicate Stops Addition
Point-of-Sale Route Re-Optimization
Customer Schedule Changes

Who Needs Our Dynamic Route Optimization Services?

We cater to both medium and large-scale businesses belonging to different industries, all with one common goal - improving the efficiency of their on-field personnel and vehicle fleet. We help your enterprise adopt an intelligent, domain-agnostic machine learning solution that considers multiple global (organizational) & local (individual) constraints in order to compute exceptionally optimized fleet travel routes on the go. Our services are ideal for -
Food Delivery Chains
Retail and Distribution Companies
Installation & Maintenance Service Providers
Healthcare Providers and Hospitals
Pest Control Agencies
Cleaning and Laundry Services
Waste Collection Businesses
Logistics Service Providers
Courier Companies
Field Sales Businesses
Inspection Services
HVAC Services
e-Commerce Companies
For all the above mentioned business, our services can be offered for -
Solution configuration and administration
Team training
API development for integration with in-house applications
Customization as per your organization's requirements
Consulting on adopting data science for logistics and optimization
B2B and B2C big data and analytics solutions
Software We Employ
At O2I, we have a dedicated team of experts proficient in machine learning, big data technologies, data sciences and software engineering who help to create a custom solution for all your automated route selection requirements. Along with that, a team comprising of product managers and developers ensure the final product delivers on all your expectations. All our solutions leverage cloud-based infrastructure hosted by established service providers. Some of the software we use to provide custom solutions to our clients include -
NoSQL databases such as MongoDB
Django Framework for REST APIs
Python Software
Google Map integration using licensed APIs
Proprietary route optimization algorithm
Distributed Cloud setup to ensure speed and multi-tenant routing features
The Dynamic Route Optimization Workflow at O2I
Over the years, we have managed to develop a dedicated workflow in order to deliver high-quality end results which keep your requirements in mind. Our process includes the following steps -
Collection of Data - We collect information regarding your existing route systems in place from multiple sources such as from the latitude-longitude information, telemetry data, existing fleet data, and other non-vehicular data such as operator an cargo data, ERP, SFA, etc.
Internal ARRO Data Representation - A schema-less data repository is created based on the information collected. This enables quick access to various reporting features that our clients may require
Groups Computation - Once the data has been collected and identified, we aggregate delivery points based on their geographic proximity. Thereafter several groups are created based on client-defined constraints such as time-based ones, fleet-based constraints, location-based constraints, etc.
Computation of Optimal Route - Our team helps to create the optimal route for your fleet which integrates with your existing systems, while allowing for 3rd party map displays on phones, tablets, etc. for easy access. This optimized route takes various real-time factors in consideration, and once again, based on constraints, delivers the ideal optimized route in a very short time.
Throughout the entire process, we follow all stages of testing that a software solution should undergo before it is deployed in a production environment. At each and every stage, we ensure that all identified stakeholders are alerted when system reports a confidence level lower than benchmark we are trying to achieve, ensuring measures are set in place so as to prevent it from happening again. These alerts can be sent via email or other real-time notifications to all the personnel involved.
Benefits of Choosing Outsource2india for Route Optimization Services
By outsourcing route optimization services to O2I, you stand to gain from various benefits including the following -
Automated Planning and Optimization - Our route optimization services help to ensure that all variables such as resource capacity, route planning, and real-time events are evenly checked by our automated programs so as to ensure an optimum experience for our clients.
Real-time Tracking - We offer last-mile tracking in real time on an interactive map interface, which can further be shared with the help of secure links or by using iOS and Android push notification APIs. We also offer real-time updates to ETAs based on varying road conditions.
Hardware Independent Solution - Unlike most other software available in the market, our cloud-based solution ensures that you can use it on device hardware ranging from desktops to phones without affecting your battery life.
Dynamic Re-routing - Since our algorithm takes into consideration several real-time variables such as trend lines, traffic conditions, resource capacity, etc. we can re-route your fleet in real-time thereby saving time and money.
Interactive Dashboards - Our interactive BI dashboards help you to analyze the entire delivery chain for problems and missing optimizations, and offers extensive planned vs actual SLA comparisons.
Cost Efficiency - We offer infinitely scalable architecture and resource-effective solutions at a fraction of the price as compared to most of our competitors. On an average, you can save 30% distance and see a 20% reduction in number of routes as well as observing a 25% saving on time to travel.
Easy Integration - With the help of our REST APIs you can integrate real-time routing updates to an application of your own choice without having to spend hours on developing a new application from scratch.
Around-the-world Coverage - Since all our route optimization services are geocoded and powered by open source public map data, we can cover your fleet over the entire world.
Increased Efficiency - Our en-route automation services means you have fewer vehicle fleets to handle, while gaining the ability to increase the total number of deliveries in a day.
Complete Data Security - For solution on cloud, our team follows strict user management guidelines and stores the data in a secured environment. We ensure that the data uploaded on the cloud cannot be accessed by a third-party requester and hold the option to purge data on user requests.
State-of-the-art Infrastructure - We have the required infrastructure in place to provide the best possible services to all our clients and address even the most complex route optimization requirements successfully. Additionally, we leverage a third-party hosted Cloud-based infrastructure, which is administered in-house.
Ease of Reporting - Our automated solutions ensure you always have access to high-quality reporting capabilities thereby driving real-time decision-making.
Client Success Stories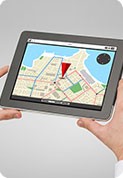 Case Study on Route Optimization to Streamline Product Delivery
O2I Assisted a Leading Dairy Brand in the Middle East With Route Optimization and Dynamic Routing.
Read the case study.
Case Study on Dynamic Data Collection for Logistics Firm
TO2I Helped a Logistics and Security Services Company Dynamically Collect Telemetry Data from Vehicles
Read the case study.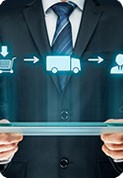 O2I Assisted a Leading Dairy Brand in the Middle East With Route Optimization and Dynamic Routing. Read the case study.
O2I Helped a Logistics and Security Services Company Dynamically Collect Telemetry Data from Vehicles Read the case study.
Outsource Route Optimization Services to O2I
With an experience of more than 15 years, and with our stellar background in providing high-quality data science services to clients across the globe, we can confidently state that our delivery management services will help you deliver in a planned and cost-saving manner. We are the forefront of enterprises offering route optimization services in India and with a team of big data technologists and data engineers, we help to create automated workflows which are tailored to the way your delivery fleet functions.
If you are looking for a service provider who can help you maximize your resources by delivering in the fastest manner and in the shortest time possible, then you have come to the right place. Contact us right away and learn more about our services!
Get a FREE QUOTE!
Decide in 24 hours whether outsourcing will work for you.
Have specific requirements? Email us at:
USA
Flatworld Solutions
116 Village Blvd, Suite 200, Princeton, NJ 08540
---
Flatworld Mortgage Solutions LLC
116 Village Blvd, Suite 220, Princeton, NJ 08540
---
135 Camino Dorado, Suite 7, Napa, CA 94588.