Outsource Photo Shadow Services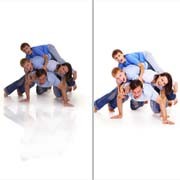 Image clipping is one of the widely used services in photo editing, mostly in the field of marketing and for promotional purposes. This process requires careful selection of images and accurate cropping while removing any unwanted backgrounds and shadows. When the image is clipped the photograph appears to be floating in air. In order to provide a professional and realistic look to the image we perform certain image shadow editing tasks so as to ensure the image looks as natural as possible.
Outsource2india has been using the benefits of shadowing and helping several companies by providing photo shadow services for their product and model photos. Our expert photo editors will carefully examine each individual photo, accurately clip the required image and provide suitable natural looking shadow effects to the subject in question.
Outsource2india's Photo Shadow Services
We ensure that our services make the images appear just as they as were intended to. We have been providing quality photo shadow services to clients from different verticals and domains for over 24 years now. Some of the key image shadow services we offer include -
Shadow Effect

Irrespective of the type of object in the image available, we have the required expertise in providing a natural shadow effect to the object. We ensure that our work provides a professional look to the image and does not appear artificial.

Enhancement of Shadow

In spite of having enough amount of lighting, sometimes the natural shadow of the object in the image may not be enough or clearly visible. In such situations we can enhance the existing shadow and provide a suitable shadow effect to the object and give it some depth.

Color Editing

Sometimes due to the lack of light and contrast in the image, the shadows in a photo can appear to be dull and worn out. Our color editing services help to make the photo stand out.

Reflection Shadow Effect

This shadow effect is similar to the one we get in a mirror or a glass. The reflection shadow effect provides a 3D effect to the object and provides depth to the photograph.
Verticals / Industries We Cater to
Outsource2india has the expertise to work with clients from different backgrounds and verticals. Some of the verticals we cater to include:
Online Apparels Shopping
Online Electronic Store
Online Automobile Store
Online Sports Accessories
Publishing
Houses
Portrait
Studios
Real Estate Companies
Why Choose O2I for Photo Shadow Services?
Outsource2india understands the various businesses and their requirements thoroughly and provide the appropriate photo shadow services. Choosing us as your outsourcing partner can prove to be very beneficial. Some of the reasons for you to choose us include -
Our quality processes are all ISO compliant and we carry out regular audits to maintain the quality of the processes
We provide the best in the industry photo shadow services at cost-effective rates
Our photo editors are graduates from premier institutes of the world and are well-trained to work on the latest photo editing tools
We have access to state-of-the-art infrastructure and cutting-edge technologies to provide top quality photo shadow services
We ensure that your photos get a professional look and can be used for your marketing and promotional activities
We maintain complete confidentiality of the photos you share with us and are securely stored
Get Your Photos Shadow Edited by Us Today
Outsource2india has been providing professional photo shadow view services and a series of other photo editing services to clients around the world including professional and amateur photographers. Having served clients across different verticals and domains we understand different businesses and their business models and are able to serve them according to their needs. Our cost-effective services have helped customers to save time and increase their revenues manifold.
To outsource image shadow services, feel free to get in touch with us or talk to one of our representatives and we will get back to you within 24 hours.
Get a FREE QUOTE!
Decide in 24 hours whether outsourcing will work for you.
Have specific requirements? Email us at:
USA
Flatworld Solutions
116 Village Blvd, Suite 200, Princeton, NJ 08540
---
Flatworld Mortgage Solutions LLC
116 Village Blvd, Suite 220, Princeton, NJ 08540
---
135 Camino Dorado, Suite 7, Napa, CA 94588.
Photo Shadow Services FAQs
Why are shadows important in photography?

Shadows in photography are all about different perspectives. Photographers manipulate shadows all the time to add drama to the composition of candid photos or remove it to illuminate everything.

How do I remove a shadow from a picture for free?

It's always free by dialing the best exposure settings while composing a shot. In the post-processing stage, many free photo editing apps and software can artificially fill light into select areas.