Outsource 360 Degree Virtual Tour Creation Services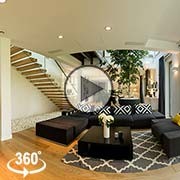 Real estate professionals are always looking to attract more customers and convince them to buy their properties. Different methods and techniques are used by them to attract customers, potential buyers and investors. One of the upcoming methods which is gaining rapid acceptance amongst real estate professionals is providing a 360 degree virtual tour of the property. This helps customers view the entire place in one single image and obtain an in-depth look and feel of the place.
Outsource2india is an expert photo editing company which specializes in 360 degree virtual tour creation services. Our expert photo editors are skilled and trained in stitching different photos and creating a 360 degree view of your real estate properties. The 3D view of the property helps potential to navigate through and have a better understanding of the property, while allowing them to make their decision faster.
Outsource2india's 360 Degree Virtual Tour Creation Services
Once we receive the photos from our clients we process these photos to create a 360 degree virtual tour of the real estate properties. We have been in the real estate photo editing industry for over 18 years now and have the required experience in working with several clients around the world. Some of the key 360 virtual tour creation services we offer include:
Image Cropping

One of the first and most important steps of creating a 360 degree virtual tour is to select the appropriate images and crop them neatly before the images are stitched together. We crop all the images to the same size as this method has been proven to give the best results.

Photo Alignment

Our team is skilled and trained to detect any misaligned images and pay special attention to correct this defect in the photos. If this key factor is not taken into consideration, the building can appear to have structural issues during the 360 tour.

Image Stitching

After the images are neatly cropped and aligned, our editing professionals stitch the photos together to create a 360 degree virtual tour of the real estate property. Image stitching is a tricky task, and requires careful attention to detail so that image areas do not overlap.

Photo Enhancement

Certain photos may have some kind of imperfections even though they are clicked by expert photographers by using the best cameras. We provide the required image editing services such as enhancing color, adjusting the lighting, fixing spots, etc.

Image Mapping

Our team of photo editors integrates a floor plan to make it easier for the potential buyers and investors to understand the plan and visualize how the room fits into the house plan.

Company Branding

After the 360 degree virtual tour is created by stitching the images together, our team of photo editors brands each virtual tour with your logo or company name and other contact details. This gives the images a neat and professional look, while ensuring plagiarism and photo hosting by scammers is avoided.

Image Optimization

The images when stitched together and developed into a virtual tour result in a huge file size which when uploaded on your website may take considerable amount of time to load. For this reason we optimize the image suitably and reduce the load time of the virtual tour on your websites.
Verticals / Industries We Cater to
Outsource2india has the expertise to work with clients from different backgrounds and verticals. Some of the verticals we cater to include:
Online Apparels Shopping
Online Electronic Store
Online Automobile Store
Online Sports Accessories
Publishing
Houses
Portrait
Studios
Real Estate Companies
Why Choose Outsource2india for 360 degree Virtual Tour Creation Services?
Outsource2india has been creating 360 degree virtual tour of real estate properties for clients around the globe. Our experience of having worked with clients of different domains helps us to understand each one's requirements and provide the service accordingly. Some of the key reasons for you to choose us include:
Our team of photo editors is trained to create professional looking 360 virtual tours and have mastered the science creating virtual tours
We ensure that the created virtual tour is optimized and hence loads faster on your site in spite of having a large file size
We provide our quality services at cost-effective rates
We deliver the 360 degree virtual tours to our customers within the fixed schedule and ensure that they are not delayed in any case
We follow strict processes which are compliant to ISO standards and conduct regular audits which help to keep a check on our quality processes
Our team of photo editors is trained from premier design institutes of the world and is skilled to work on the latest photo editing tools and technologies
We have access to the some of the cutting-edge tools and technologies and state-of-the-art infrastructure
We provide our services within a quick turnaround time through our multiple delivery centers
Outsource 360 Degree Virtual Tour Creation Services to Us
Outsource2india has been providing top quality real estate virtual tour creation services and a host of other photo editing services to clients around the world. Having worked with customers from different backgrounds and domains, we tend to understand their business and their business models very easily and provide the required services. We have been in this industry for more than 18 years now and our cost-effective services help customers to save time and increase their revenues manifold.
If you have any kind of 360 virtual tour creation requirements and want to take advantage of the benefits of 360 degree tour service, feel free to get in touch with us and we will be more than happy to help you out.
We customize pricing for your outsourcing projects.
Our photo editing services have created global success stories.