Outsource Jewelry Retouching Services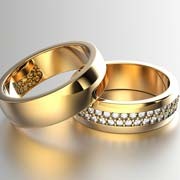 Jewelry photography is an extremely challenging genre of photography. Many issues can arise during a jewelry photo shoot such as color casts, odd reflections, improper mannequin postures, visible dust, etc. Such issues can in turn make your images look unprofessional. At Outsource2india, effective jewelry retouching by our team of photo editors has helped countless clients around the globe receive exceptional benefits, while being able to display their jewelry products in the best possible light.
It is a challenging task to provide flawless jewelry retouching services with the kind of requirements and satisfaction as is expected by a customer. We at Outsource2india are ready to take up such challenges and provide high-quality jewelry retouching services. Our photo editors are trained to work on the latest photo editing tools and technologies, and can make a visible difference to your jewelry images within a short turnaround time.
Outsource2india's Jewelry Retouching Services
Outsource2india has been providing top quality photo editing services to clients around the globe for over 18 years now. Our experience helps us to understand different clients and provide the necessary services. Some of the key jewelry retouching services we offer includes -
Slide on the image to see BEFORE / AFTER images.
Mannequin and Background Removal
Our team of photo editors has the requisite expertise in removing unwanted backgrounds form jewelry photos. Whether it is a distracting background, or a mannequin which does not suit the particular images, we make the necessary changes depending on the requirements of the customer
Slide on the image to see BEFORE / AFTER images.
Jewelry Recoloring
Sometimes the color may not appear as expected in a photo or the required colored jewelry is not available to be photographed. In such cases we can add the required color to the jewelry images to make them look more appealing to the customers.
Slide on the image to see BEFORE / AFTER images.
Focus Stacking
Sometimes different parts of the jewelry are in focus in different photographs. Our team is skilled enough to combine such images and create a single image in which the entire set is in focus. We use focus stacking to remove the blurring of pictures caused due to a camera's depth of field.
Slide on the image to see BEFORE / AFTER images.
Photo Merging
Our team has the required expertise in merging several photographs to form a set. This is especially useful when you want to create a catalog featuring different forms of jewelry sets including earrings, necklace, etc.
Slide on the image to see BEFORE / AFTER images.
Shine Enhancement
Sometimes photographs of jewelry can appear dull and old due to poor lighting and other factors. We can provide adequate shine enhancement services which helps to make the jewelry shine and appear as if they were recently polished.
Slide on the image to see BEFORE / AFTER images.
Dust and Scratch Removal
Sometimes the jewelry to be photographed may have some scratches or dust which might have settled on it. We can remove such glaring errors from the jewelry image and make the images appear as good as new.
Why Choose O2I for Jewelry Retouching Services?
Outsource2india has been a photo editing company for over 18 years and our image editors excel at what they do. Our photo editors are well trained to work on the latest tools and technologies and provide the best jewelry retouching services. Some of the reasons you need to choose us for flawless jewelry retouching services include -
Our team of photo editors follows ISO compliant standards and performs regular audits to maintain our quality procedures
We provide quality jewelry retouching services at cost-effective prices
Our team of photo editors hail from premier design institutes and are trained to use the best photo editing tools
We deliver all our projects to our clients within the scheduled time and hence help them to stay on schedule
Our photo editors have access to state-of-the-art infrastructure and some of the cutting-edge technologies to provide the best in the industry jewelry retouching services
Our multiple delivery centers help us to work according to your time zones and provide you with better services
Outsource Jewelry Retouching Services to Us
Outsource2india have been providing specialized jewelry retouching services and a host of other photo editing services to clients around the world for over 18 years now. Our experience helps us easily understand different clients and their businesses models and serve them with customized services in order to save them valuable time and increase their revenues considerably.
If you are looking to make use of the benefits of jewelry retouching, feel free to talk to one of our representatives or write to us and we will be more than happy to help you out.
We customize pricing for your outsourcing projects.
Our photo editing services have created global success stories.