Case Study on Accounts Receivables Management & Medical Billing
The Customer:
An Urgent Care practice in Maryland.
The Challenge:
O2I was initially approached by the clinic to take care of Account Receivables Management. The client was also facing a problem on the billing side like:
The billing was not completed within 24 hours
Steep Decrease in collections
Poor quality of work done by in-house billers
The Client wanted to hand over the billing side to us in 2 months if he gets satisfied with our ability on the AR Management (we did a good job and the owner of the clinic handed over the billing part as promised).
We had to use a new software namely AdvancedMD for carrying out the operations. We got cross-trained over phone on the practice management software.
The Project:
To provide Full Service Billing.
To handle average of 700 claims every month
The Solution:
The following measures were taken to improve collections and productivity:
A dedicated Account Manager and Team were deputed to handle the clients account
The team consisted of full time employees for medical billing, medical coding and an AR expert
Evolved a medical billing process and an AR process to make sure that billing takes place within 24 hours
Follow-up on denied claims
Address issues with insurance company and get them resolved
Maintain knowledge base of issues and solutions
The Results:
By outsourcing their medical billing functions to O2I, the CLIENT was able to:
Witness that the average AR days were brought down from 34 to 23 days within 6 months
Witness that the collection percentage increased from 53% to 61% within 6 months
Have significant improvement in the cash flow as a result of increase in collection ratios
Concentrate on patient care and see more patients, with the availability of more time, and a clutter free office
Decrease reliance on employees and eliminate fluctuations associated with backlogged claims and employee turnover
Increase operating efficiency and reduce administrative costs
Please see the graphs below: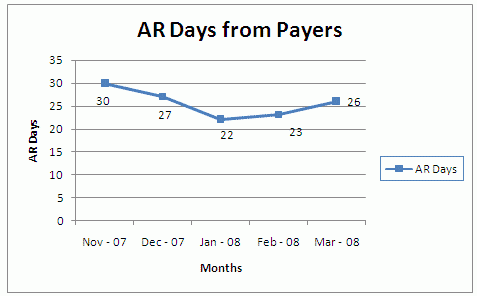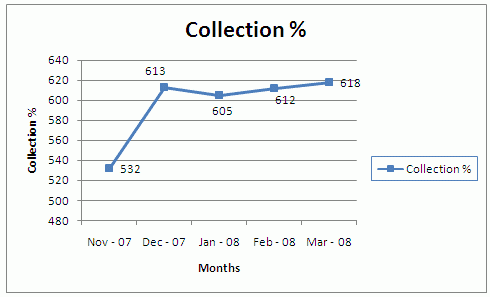 | | | |
| --- | --- | --- |
| Progress since we started | 2008 | 2007 |
| Collections % (rolling 6 months) | 61.60% | 53.20% |
| Average A/R Days | 26 | 34 |
| A/R over 90 days as % of total | 15 | 21 |



CONTACT US
Pricing is a critical factor to consider before outsourcing. Our pricing model allows you to keep your costs in control.
Read the case studies to know how we helped several companies with our data entry and related services.