Outsource2india's CATI Services Increased Productivity and Reduced Operating Costs for a leading Customer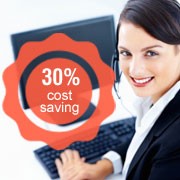 Outsource2india a pioneer in outsourcing has been providing world-class CATI services to global customers since 2002. Our customers have greatly benefited from our cost-effective services, fast turnaround time and well-defined processes.
Outsourcing CATI services to O2I can help your organization benefit from increased productivity and reduced operating costs. Outsource CATI services to O2I and experience an increase in business value.
Read the following case study to find out more about how our customer benefited by outsourcing CATI services to Outsource2india.
The Customer
Our esteemed CATI services customer is a worldwide leader in providing internet media and market research solutions. Our customer provides competent, high-quality and technology-driven services and products. Our client's company portfolio consists of research services, custom data, internet audience measurement services, online advertising intelligence, transaction metrics, user lifestyle and demographic data and e-commerce.
The Challenge
Our CATI services customer benefited from our competent and next-generation CATI research solutions. Our team of CATI professionals effectively met the requirements of our customer. As part of the CATI services project, O2I had to conduct the following. Outsource CATI services to O2I and we will competently meet your requirements.
Extensively study the internet and the technology behavior trends of children across the country of Australia
Conduct 500 surveys of parents and their children between the age group of 6 to 17 years across all the Australian states
The average duration of the interview was to be kept for 30 minutes, which was a big challenge, especially with young children
Build a B2C database with the agreed quota for each state in Australia
Deliver the surveys within 4 weeks in a cost-effective manner
The Project
At Outsource2india, we effectively met the requirements of our customer by taking the following initiatives.
We first developed a list that was adequate enough to generate 500 surveys along with the agreed quotas for each state.
We then created, designed and developed an efficient training product especially for the interviewing team who would be interviewing young children.
After that, we provided daily progress reports and updates about key issues and interviewer feedback to our customer.
We conducted the surveys with a personalized and conversational style to ensure that the parents and children were engrossed and interested
To make sure that there was no bias in the research results, the selected respondents had to use the internet and fall in the age group between 6 to 17 years. There also had to be a 30 minutes questionnaire only with multiple-choice questions. We also had a dedicated quality check team who provided quality assurance of data and voice screen records.
Outsource CATI surveys to O2I and benefit from proficient and technology-driven CATI surveys.
The Results
Outsourcing CATI services to O2I enabled our customer to increase productivity and reduce operating costs. Outsourcing CATI services also helped our customer to benefit from a fast turnaround time and competent CATI surveys.
We completed the project within the estimated cost and helped our customer benefit from 30% cost savings
We completed the project within the specified 4 weeks
We efficiently captured 100% of data and voice screens
We competently delivered 500 surveys within the specific sate quotas
We proficiently created interview screens by using the industry standard CATI application
Outsource CATI services to O2I and give your business a competitive edge!
Get a FREE QUOTE!
Decide in 24 hours whether outsourcing will work for you.
Have specific requirements? Email us at:
USA
116 Village Blvd, Suite 200,
Princeton, NJ 08540
Call Center Services in Philippines Hire Talented & Friendly Agents for your Call Center Read More